Soap making classes in Delhi
The soap making classes at Craft Tree Academy is specially designed to help both creative talents and lifetime learners to acquire the skill of Soap making. The craft of soap making eventually helps a majority of our students to establish their own brand in the market and find their livelihood from the soap-making business. There are a number of hobby enthusiasts, lifetime learners, and seekers who wish to pursue their hobby and learn the process of making soaps right from the very basics.
If you are curious what does Soap making classes has to offer you? Which institute is best for soap-making courses? And how you can set up your own organic soap making manufacturing business? We have all the answers for your
Many of you might take soap making as just a hobby course but it would not be wrong to say that Soap Making is altogether a professional job and after successful completion of the course you can easily consider yourself as a professional craftsman or in other words a personal soaper. After getting the course completion certificate you have the opportunity to set up your own business under the eminent guidance of our industry experts who will help you to start your business right from the scratch.
.
What does soap making courses consist of?
The course starts with an introduction to soap making. The introductory class or the basic soap making class teaches you how to make soap, what ingredients are used in making soap how to make different types of soap. The course is divided into a number of levels, whereby each level has a certain set of skills and mastery levels attached to it. The Soap making course at Craft Tree Academy is optimally bifurcated between the theoretical approach and the practical skills. As a student, you get to learn the skills and art from the industry experts who themselves have a cumulative experience of more than 40 years in the industry.
What makes soap making classes lucrative
With the rise in the pollution level and the types of chemicals used in toiletries, especially soaps, there has been a huge surge in the organic demand in the market be it soap, detergent, or skincare products. By learning the art and skill of Soap making you can easily prepare your own soap free from toxic chemicals either for your own personal use or for selling in the market. Our Soap Making courses at Craft Tree Academy are reasonably priced and taught by a bunch of experts who have been into the cosmetic and soap industry and know all the nuances of soap making.
Scope of soap making courses:-
As they say, if you are really good at making something the market is always ready for you. As already established there exist a huge demand of chemical-free fragranced soaps in the market. After the successful completion of the course and getting a degree from Craft Tree Academy, you can easily either set up your own brand or can get a job in the soap industry. Best thing best to set up your own brand you do not need a huge investment. You can easily start from your own home and can gradually increase your sales. It is your skill of soap making that will help you go a long way. And you can easily acquire these skills at Craft Tree Academy at a reasonable price.


Which is the best soap making training centre in Delhi?
There are a number of institutes out there that will shout at top of their lungs to make you believe that they are the best in the industry. But here at Craft Tree Academy, we like to put it out clearly in the open and leave it on you to decide about the best soap making training centre in Delhi. A few of the things which distinguish us from others are as follows:
Our courses are divided into levels with each level providing you a different skill set and mastery level

Our courses are optimally bifurcated between the theoretical approach and practical experience, this means you learn the concept as well as the practical part which will eventually help you to experiment with the soap fragrance and its ingredients.

In case if you want to set up your own soap manufacturing business, our experts will help you from the scratch

Our courses are taught by industry experts who themselves have been in the soap making industry.

Our academy is ISO 9001:2005 certified Academy

We provide one to one and small batch classes as per your comfortable level

We not only teach to make soaps, we also teach you how to market t
Types of soap making courses Craft Tree Academy provides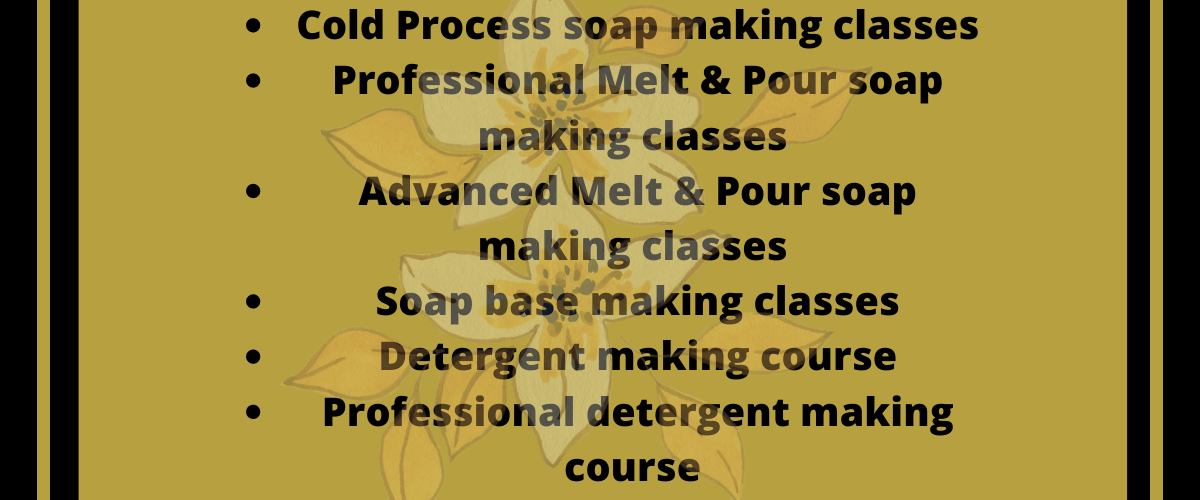 Craft Tee Academy also provides detergent making courses
FAQ
Q.What is Soap making courses?
Ans. Soap School offers professional soap making and natural cosmetics courses to help budding entrepreneurs launch their own cosmetics company.
Q. Which types of soap making courses are craft tree provide
Ans. Soap base soap making courses, Professional Melt and Pour Soap making Courses, Advance Melt and Pour Soap making Courses, Professional cold process soap making courses, and Advance cold process soap making courses.
Q.Where can I learn to make soap?
Ans. You can learn soap making courses online or offline from craft tree academy our experts will teach you soap making courses and after completing the course we will provide you with the certificate.
Q.Can I start my own business after completing these courses?
Ans. Yes you can start your own business in soap making industry It will be a great opportunity to start your own business on a low budget.
Q.How many days does it take to complete this course?
Ans. You can complete soap making proper course within 9 days.
Q.How can I join soap making courses?
Ans. You can join our soap making course online-offline you can call or message on our no. (+91)-9643792145 (+91)- 9873504819 for more information about the courses fees structure address discount and also send the mail info@crafttreeacademy.com.
---

Best Soap making classes in Delhi, soap making courses online in India. Best Soap making courses online, Soap making classes, Soap making training center in Delhi, Soap making courses online, Detergent making course, Detergent making course online